Dairy Rings for dairy couplings DIN 11851
The so-called dairy couplings were originally developed for the connection between dairy hoses and pipes. Today they are widely used in the dairy industry as well as in the chemical and pharmaceutical industries. Seals ( dairy rings ) for dairy couplings are available in different materials; NBR, Epdm, PTFE, Teflon, Silicone and FKM, FPM, Viton ® blue, black, green, transparent.
Dairy rings dimensions: DN25 (1″ 40×30), DN32 (1 1/4″ 36×46) , DN40 (1 1/2″ 52X42) , DN50 (2″ 64X54) , DN65 (2 1/2″ 81×71), DN80 (3 " 95X85), DN100 (4″ 114×104).
FDA Standards
Dairy seals must meet FDA standards. This means that the rings can be used in applications where it comes into contact with medicines, food, biological and medical equipment. The FDA standards are control standards that indicate which chemical materials are suitable for use in these applications. The FDA Standards are the standards of the United States Federal Government.
The European standard EC 1935/2004
Materials and articles intended to come into contact with food must comply with standard EC1935/2004. It repeals Directives 80/590/EEC and 89/109/EEC.
See our dairy couplings here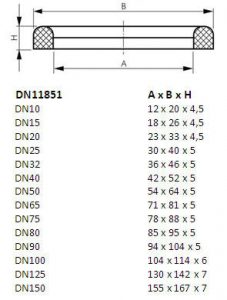 View and order all your Dairy Seals here