The filaments we can supply are filaments with one of the lowest tolerances. Because the filaments have such low tolerances, they are filaments of the highest quality you can find. Because of this high quality, we guarantee you the best 3D printing experience.
The extremely good quality of our filaments has to do with how our filaments are produced. During the production of the filament it does not come into contact with water. After production, the filament is immediately packed in a vacuum bag. This results in a moisture-free product.
Due to good development, new materials are constantly being created for the 3D printing market. With our many years of experience in the production of polymers, we have created unique materials. We also produce custom filaments upon customer request.
Our filaments are used in high-quality applications. For example, the filaments are used to make parts for various industries. The industries for which our filaments are used are, for example, space & aviation industry, food & beverage industry, medicine industry and even for technical applications in Formula 1, for example.
Our filaments can also help to prevent viruses, for example. With our PETG filament, face masks have been made for employees in medical care.
Because we sell many different filaments with many different materials and dimensions, we always have a filament for your application. We also have filaments that are biodegradable. As a result, we have filaments that are very environmentally friendly.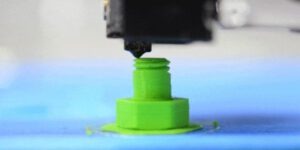 Contact us for more information. View our webshop for our full range of filaments.
These are the most common filaments:
ABS (Acrylonitrile butadiene styrene)
PLA (Polylactic Acid)
PETG (Polyethylene Terepthalate Glycol-modified)
ASA (Acrylonitrile-Styrene-Acrylate)
PEEK (Polyether Ether Ketone)

ABS
ABS Acrylonitrile Butadiene Styrene) is the most common filament. This is a very easy to process filament. ABS has the properties that it is a very strong material and also has a high toughness. Furthermore, it is also very durable, impact resistant and light. After printing, however, it is possible to edit it by sanding. Or by means of an acetone vapor installation to remove visible layers.
PLA
PLA (Polylactic Acid) is a biodegradable material that comes from renewable organic sources such as sugar cane or corn starch. This is a very user-friendly filament. PLA has a low shrinkage factor, so it will not deform after cooling. This makes it a very good material to use for 3D printing.
PETG
PETG (Polyethylene Terepthalate Glycol-modified) is a material used in clothing, bottles for liquids and foodstuffs. This is a material that is very easy to print, it has a very smooth and glossy surface finish. Due to the good thermal properties of this material, the design will cool well, so that it will not warp.
AS
ASA Acrylonitrile-Styrene-Acrylate) is a very strong and water resistant filament type. Incidentally, it also has a very high resistance to UV radiation and chemicals. This filament type is widely used for printing prototypes, car parts and objects for outdoor use. The most important properties of ASA filament are, glossy material, very strong, heat resistant, slightly flexible and water resistant.
PEEK
PEEK (Polyether Ether Ketone) is considered one of the best filament types available. PEEK is not brought into contact with water during the entire production process, and is vacuum packed immediately after production. This makes PEEK very suitable in FDM and FFF 3D printers. Due to the good adhesion of the material, the result is very good impact resistance. As a result, it meets the European regulations of the FDA.